It's very likely that you have not heard anything from the fake news regarding the Supreme Court's decision to meet on January 6, 2023, to discuss whether or not to place the case of Brunson v. Adams on the full Supreme Court's docket.
Brunson v. Alma S. Adams is a lawsuit that has been brought against 388 federal officers for failing to heed states' warnings about illegal votes. The basis of this case involves Rule 11, which identifies this case as impacting our national security, allowing for an expedited path to the U.S. Supreme Court.

In fact, the Supreme Court has expressed enough interest in this case that it has instructed the Clerk of the Court to reach out to the plaintiffs to help them present their case.

The basis of the case is that the defendants, which includes members of Congress, Joe Biden, Kamala Harris, and Mike Pence, voted to certify the 2020 election without having investigated the election after receiving a valid request from 154 congressmen to investigate six states where there was a question of validity. The case alleges that these individuals violated their oath to defend the Constitution.

The request to investigate the election was brought by Ted Cruz and 154 congressmen, noting the fact that the Director of Intelligence, John Ratcliffe, head of 17 intelligence gathering agencies, stated on multiple occasions that there was Chinese interference with the 2020 election.

The question before the court is not whether the election was valid, but that by violating their oath to defend the Constitution and investigate the possibility of Chinese interference, they invalidated themselves from holding public office.
Below is a screenshot of pages 38 & 39 of the case and the requests made: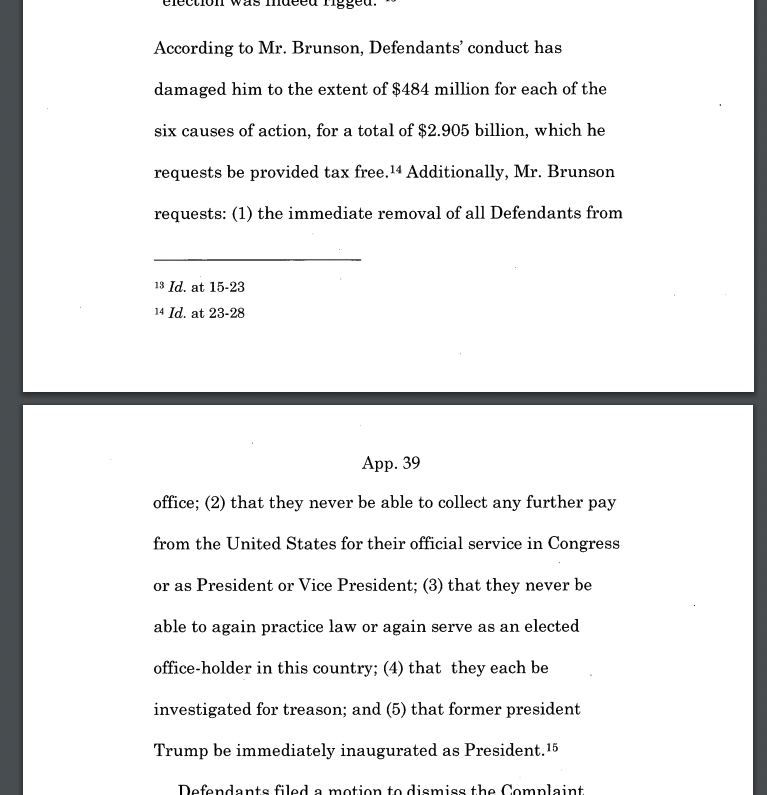 If the U.S. Supreme Court agrees to hear this case under Rule 11, the possibility then exists that Kari Lake's case could follow the same route.

If these cases succeed in being heard by the Supreme Court, and the outcome is that the defendants are found guilty of having violated their oath to office, this could lead to renewed confidence in honest elections.
Without citizen confidence in our elections, we don't have a country.

For more information on this case, click here.
Please join us in our mission to call for a Convention of States by signing the petition below.