Voting happens just one day a year, but moving your life to an area with better-aligned values is a new form of voting that has become widespread among Republicans and Independents.
Americans are moving away from political ideas that don't fit their personal beliefs, according to a new poll conducted by the Trafalgar Group in partnership with Convention of States Action.
Every part of the county offers a different lifestyle, a different tax code, a different level of freedom, and a different amount of government oversight. These once not-so-significant issues have now altered the way of life for many.
Over 10% of Americans say they have either moved in the last three years or plan to in the next year. By party affiliation, the figures diverge immensely.
Republicans and Independents are four times as likely to have moved to a new region that better represents their ideology than Democrats. Further, the number of Republicans and Independents moving to regions where they feel better represented is set to skyrocket in the next year.
Nearly 15% of Republicans have or plan to move in the next year to a region that better aligns with their political and personal opinions.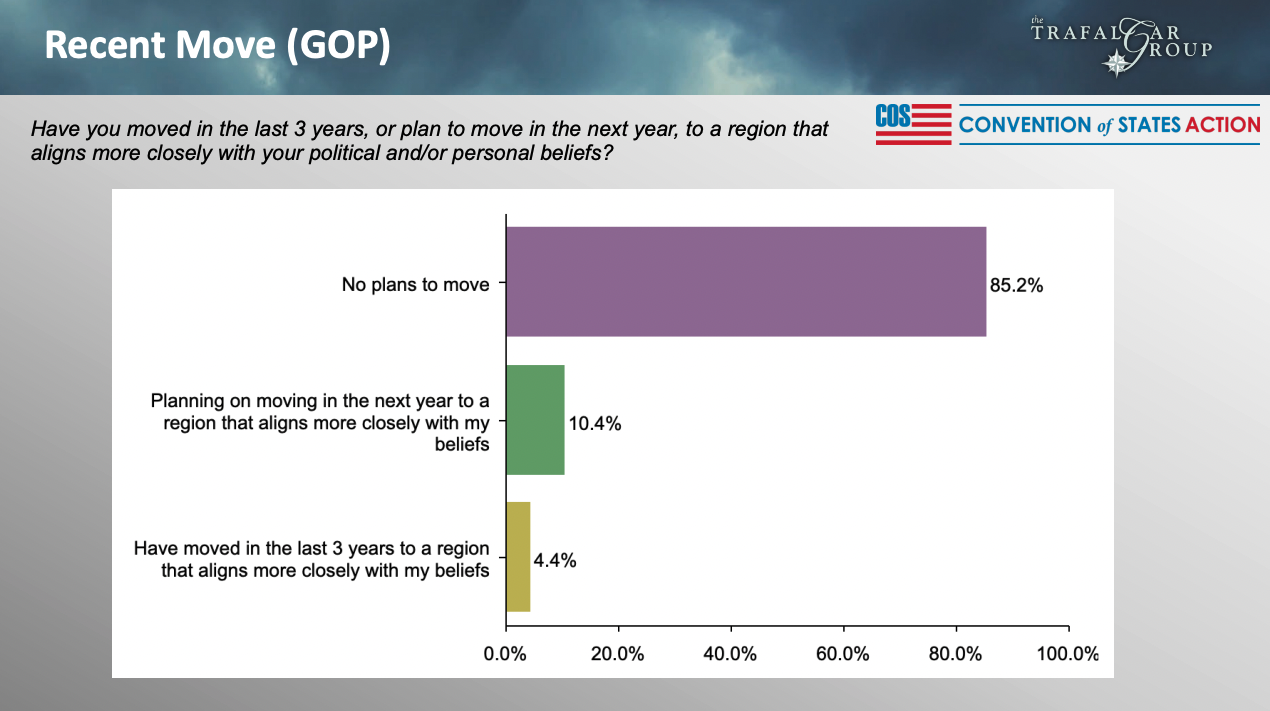 Just over 3% of Democrats plan or have moved, the data reveals, and 96.8% have not moved and have no plans of moving. This reveals a far more accepting demeanor toward the cultural and political ideas liberals are surrounded by on a daily basis.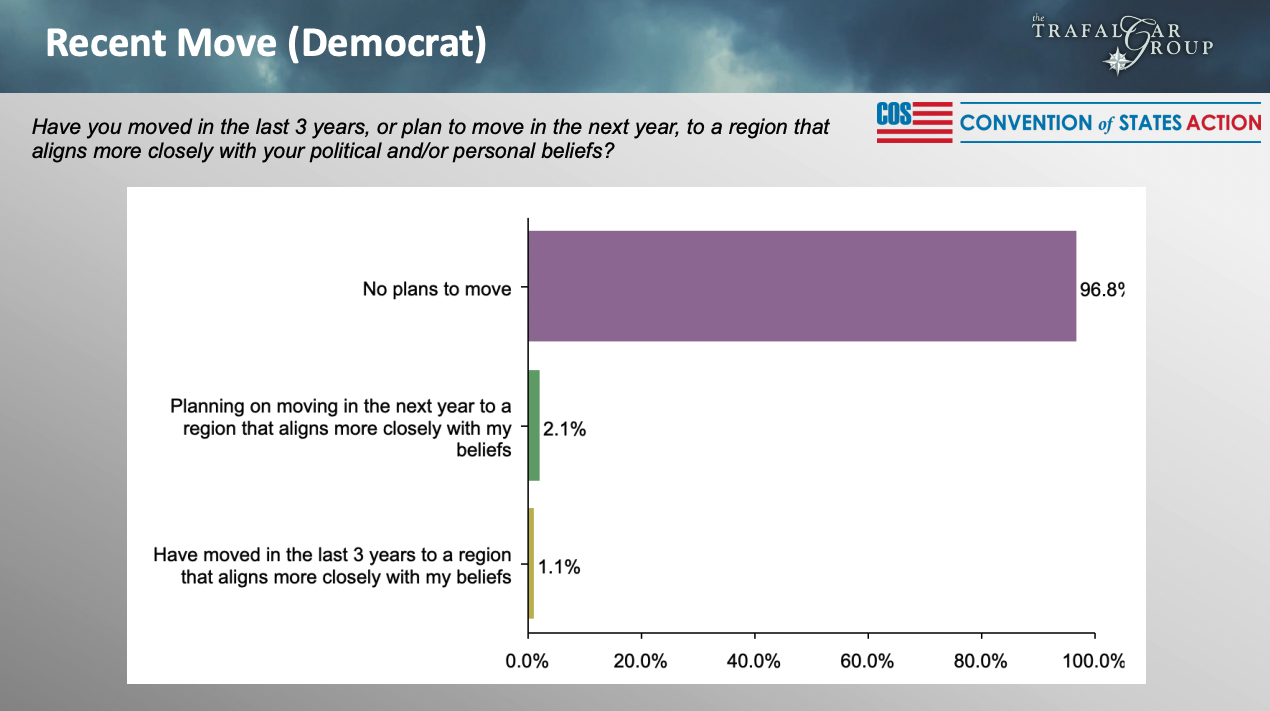 Among Independent voters, nearly 14% have or plan to move, aligning closely with Republican sentiment. See all data here.
COSA President Mark Meckler said the huge swing in relocating is only going to grow as political tensions rise.
"This incredible data reveals that it is Republicans and Independents who have voted with their feet and moved to states more aligned with their values," said Meckler.
"This is only going to accelerate as we move forward. America is in the midst of the Great Decoupling, as our nation becomes less of a United States and more focus is placed on regional and state policies and values, similar to what we saw at the founding of our country."
There are many forms of voting other than just waiting for the next Election Day. For COS, voting with our lives is done every day through impactful activism.

No matter if your political and personal values are embodied in your community, the Convention of States movement seeks to spread the ideals of self-governance and personal freedom to all Americans in all regions.
You can help! First ask yourself, "how am I voting with my life every day of the year?"
Then, sign the COS petition below to help us call for a Convention of States.
Finally, voting with your life requires action, and we're always welcoming new patriots into the COS family.