While Democrats and Republicans disagree on many things, one thing is for sure: everyone wants term limits imposed on government officials, and this election cycle, Baltimore decided to do just that.

Question K, the establishment of a two-term limit for Baltimore City Elected Officials, was passed on the ballot, and by a whopping 71%.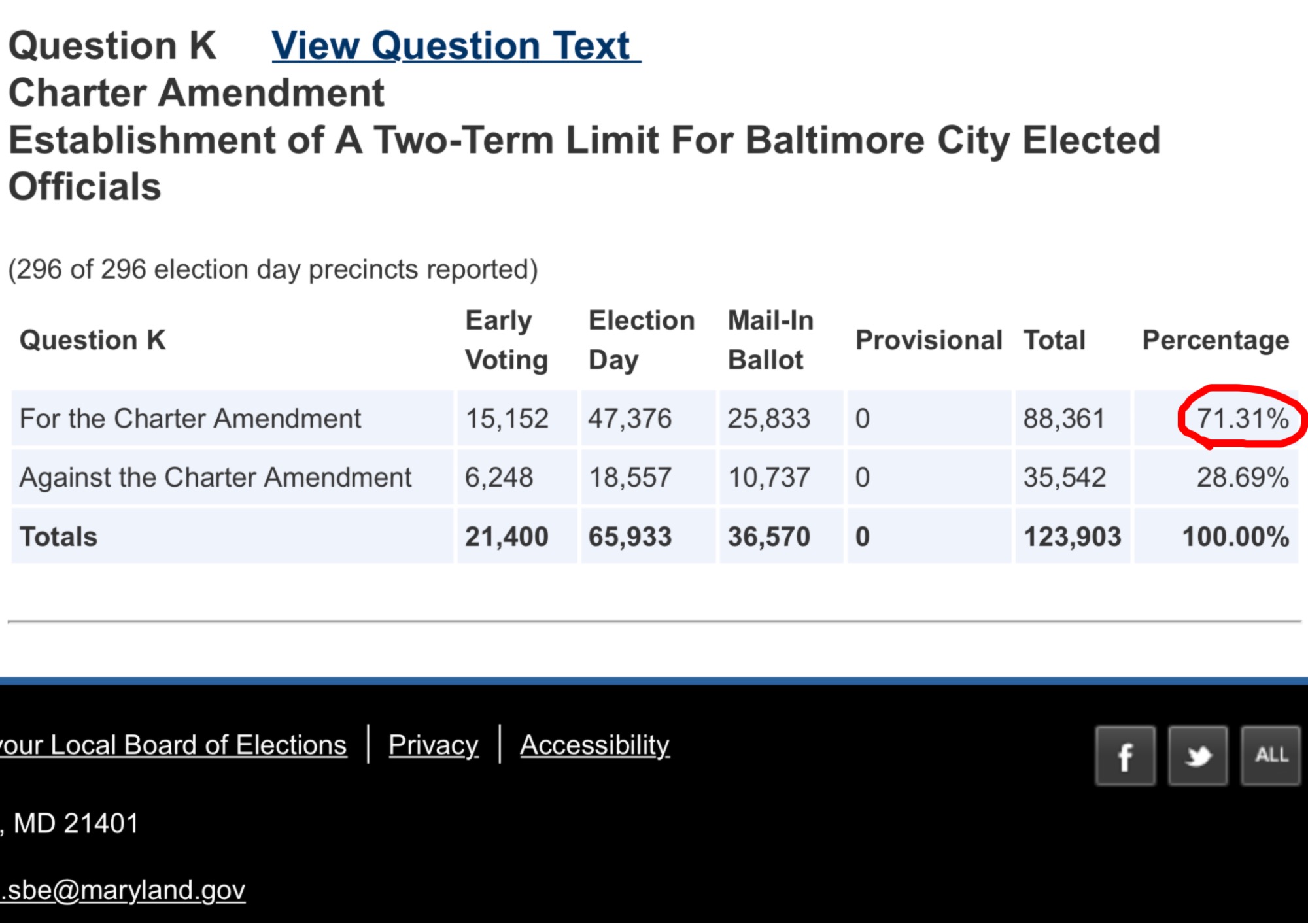 From MSN:
"Under Question K, the mayor, the comptroller, the city council president and city council members will now be limited to two terms over a 12-year period. However, all candidates start with a clean slate in 2024, meaning most incumbents wouldn't be affected until 2032.

Under the measure, term-limited candidates are able to seek another role in city government.

The ballot measure had come under heavy criticism from Democratic officials, saying it will limit voter choice and devalue expertise.

Supporters countered that term limits would encourage a wider range of candidates to serve in city government."
Dylan Diggs, a pro-Question K supporter from Frederick, Maryland, who has family in Baltimore, says:
Baltimore City voters deserve better. Question K offers the opportunity to create city government structures that will challenge the status quo and make politicians work for their vote. These are the ingredients for a more vibrant and responsive city government that is both for the people and of the people. If properly implemented over time, Question K can help bring government closer to the communities it should be serving.
Sound familiar? Sign this person up for Convention of States pronto!
Additionally, another charter amendment was passed to put control of Baltimore police back into local hands, instead of under state authority as it has been since the Civil War. This was approved by 82% of voters.
The city of Baltimore, with Democrats outnumbering Republicans nearly ten to one, has proven that the goals of Convention of States are truly non-partisan. No one, right or left, wants to live under Communism and tyranny. We all believe in limiting government, and the people of Baltimore should be applauded for their successful efforts to do so. Now, on to the federal officials!
Maryland (& maybe Dylan) is ready for a Convention of States. If you haven't already, sign the petition and encourage others to do the same. The convention is coming! Come along for the ride.