Convention of States is made up of thousands of grassroots volunteers working hard in their local communities across the entire nation.
This collective effort is essential in order to redirect the path of our nation. COS is blessed to have extremely devoted and faithful volunteers who give their time and skills to a cause rooted in self-governance.
Out of all the outstanding activists, the regional directors had to narrow it down to just one exceptional individual to recognize at the Summit.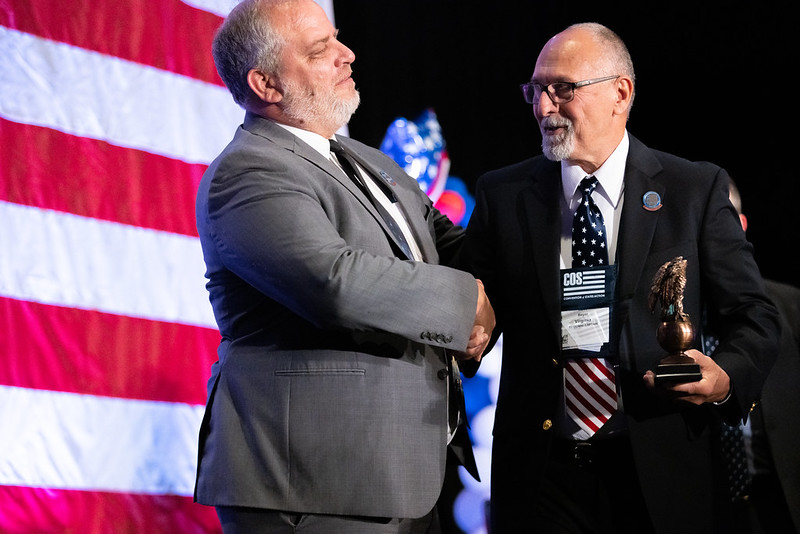 Virginia Regional Director Russ Beyer was selected as the COS Volunteer of the Year earlier this month at the Leadership Summit in Florida for his remarkable leadership and dedication.
Russ has been a member of the Virginia team since 2015. He's collected over 1,000 petitions. He's made over 3,000 TelePatriot calls and he's completed 19 COS University courses. He recruits citizens and then he turns them into trained grassroots activists. He also works diligently to form relationships with the state legislature, a crucial aspect in passing the COS Resolution.
"In short, the leadership of this truly amazing patriot has had an enduring impact in his state – and I would add in the entire nation. Please congratulate Russ Beyer of Virginia," President Mark Meckler announced.
Also on the Virginia team is one of the Challenge Coin recipients, Nancy Koenig, the State Grassroot Coordinator.
Only 300 coins have been minted and Nancy's hard work and dedication earned her way into the rare honor.
To all COS volunteers and supporters across America, your contributions don't go unnoticed! Every patriot-activist is critical in ensuring we remain free and prosperous.
Are you new to COS and feeling the urge to make an impact right in your own town? Then take action here!