The COS Delaware team lost a valuable member and colleague when Kimberlyn Allen passed away suddenly on November 24, Thanksgiving evening. She was 58 years old. Her death came as a great shock to everyone who knew her.

Kim had lived in Delaware all her life, growing up in the Glasgow area. She earned her real estate license in 1987 and developed a successful career as a realtor. She was married to Rick Allen for 31 years, and together, they had two sons, Richard Jr. and Evan. Kim was also an active member of Connection Community Church in Middletown and was passionate about her Christian faith. She volunteered at the Food Bank of Delaware and was a fitness enthusiast who exercised daily.

Kim became involved in the Convention of States in 2019 as DC for District 27 in the Glasgow/Bear area. State Director Ginny Watkins says, "Kimberlyn was the first to volunteer for the Delaware team as it was rebuilding from scratch in the fall of 2019. She had learned about COS from Mark Levin, signed the petition, and immediately took the initiative to apply for the district captain role. She took her DC job seriously from the very beginning, attending an event within the first month where she would meet her legislators. She was also fun-loving and people-oriented, helping to make newcomers feel welcomed and informed at our many meetings and team social events. She was passionate for her country and fulfilled the district captain role faithfully."

Michael "Doc" Pushkarewitz remembers that Kim was the first person he met at the first COS informational meeting he attended, and she was friendly, helpful, and easy to talk to. Karen Wrightson adds, "Kimberlyn always had a smile and she was the snack queen! Always made sure we had snacks at the booth or the meetings." Many team members remember that Kim was the first person in a pool at the annual pool party and the last one out!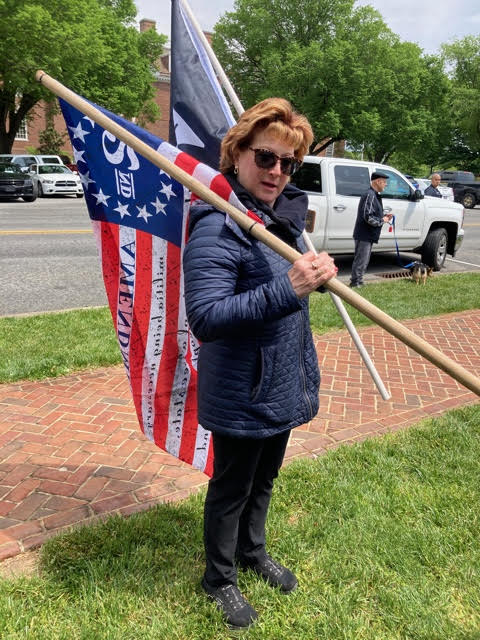 A memorial service was held for Kim on December 10 at Connection Community Church, attended by many members of the COS team. Her husband, son, and many friends spoke of their love for Kim and how much she meant to them, and how they will all miss her. She is also irreplaceable in the Delaware team and in our efforts to save the republic!