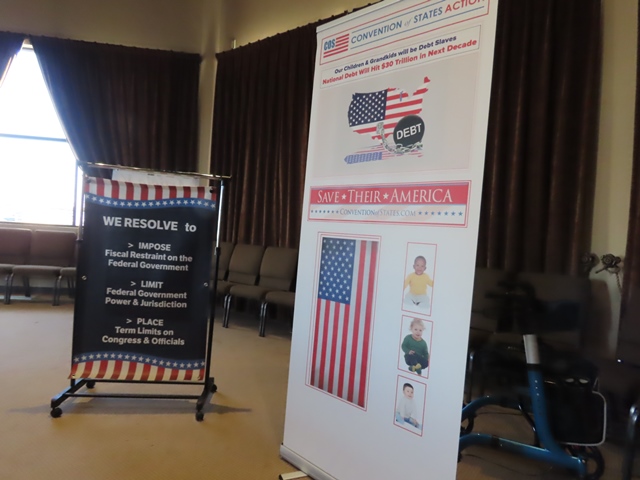 It's time for you to get involved with Convention of States.

Your district needs your presence and your persistence. We need your skills in business, computers, social engagement, creativity, coaching, and general support.

Getting people together takes a lot of heart. There needs to be a good reason.

We have a good reason. We hope in the same result: term limits, spending limits, and putting the brakes on federal government growth and corruption.
It must be accomplished district by district, meeting your neighboring petition signers, brainstorming, learning about the Article V process and what needs to be done.

We need to develop skills together: grassroots skills. This takes practice and experience.

Brighton has a District Captain, Wayne Walvoord, who's putting the time in to make this happen but he needs help.
He wants to double up and do a virtual meeting while at the same time, hosting his meeting at Harvest Fellowship on the first Sundays of March, May, June at 4pm so more people in his districts can attend. His next meeting is on March 5th.

He needs help promoting his meetings and spreading the importance of Convention of States, both as a legislative resolution and a grassroots phenomenon.
We have District Captains across Colorado that need this kind of support. We have districts that need District Captains.
We need this kind of involvement across the front range, building relationships and grassroots experience. A reliable network of people willing to share their skills to revive our nation back to greatness.

What is it going to take to get everybody at the table?

We have enough supporters in Colorado to shake up both Common Cause and League of Women Voters - both progressive groups that are threatened by a self-governing nation that isn't bowing and kneeling to their theology.

These groups are coaching our state legislators to avoid us. They're lying about our intentions, calling us a "constitutional convention" and then expounding with fear-mongering. They know that once the American people understand that Article V gives power back to the people, progressivism will weaken and become malignant.
We need to push back and inform legislators of the truth about Article V and Convention of States. We need all of our supporters active in order to be as effective as we need to be.

We need a federal government that is functional and yields to the rights of its people.
We need Coloradans to show themselves and build the foundation that proves we follow through with our civic responsibilities, regardless of which politicians hold office.

We need to make history in our generations.

If you're in the Brighton area, sign up to volunteer and help Wayne build a wall of eager citizens, willing to try, fail, succeed, grow, coach, encourage and strengthen our numbers.

Be it in Brighton or anywhere else in Colorado, sign up to volunteer.
The local media has failed to be the eyes and ears of our districts so our localities have been given up to progressives and now decades have passed and we've lost control of our nation.
We trusted that everything was working itself out on its own. We were wrong.
Now we need to be the eyes and ears in our city councils, school district councils, State Capitol legislative sessions, Colorado Department of Transportation public meetings, Colorado poll workers and election judges. You name it and the media is ignoring it. It's not interesting until you get personally involved.
This is modern America and we're losing our grandchildren's liberty.
Take action.