We need you to please update your email address, and your subscription options. There will be many local actions this year in NH, and we want to be able to contact you, only about the local NH status and activities.
Your email address is a critical element to identify you in the COS system. It is also important that we can contact you for various reasons. In the past, you could Opt Out of emails, but it turns out that stopped all contact with you. We now have the ability to let you Opt Out of emails from the National office, but still allow your local state District Captain, and others from the NH Leadership team reach out to you.
The easiest way to make this happen is to update your email address, and the Subscription options. This can be done by going to the following link:
This will open a web page where you can update the information. Enter your current email address, your First and Last names. Next, under the Subscribed Content section, update the four options.
To continue to Opt Out of all National messages, remove the check marks from the first three boxes. Leave the check mark for the fourth option, Calls-to-action (Local).
Since you may now want more frequent updates, you may also want to keep some of the first three check marks to stay there. But please do not remove the check mark for Local Updates.
When you have updated the options, click on the SUBSCRIBE box. That is all you need to do, your option choices will be updated.
See the sample screenshot, for George Mason, below.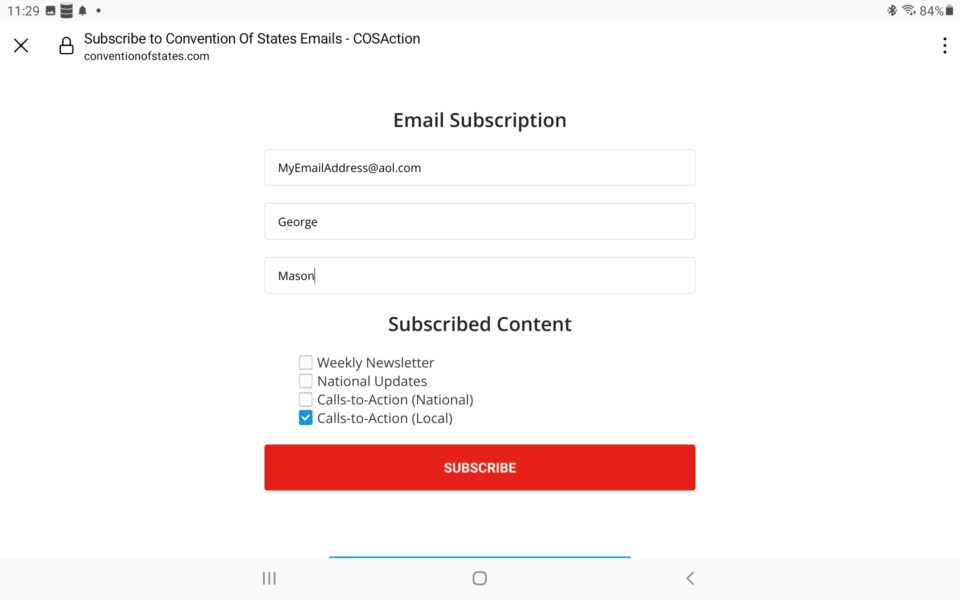 Thank you for your support. This will be an important year for COS in New Hampshire. We will be submitting the legislation to approve the Convention of States from the state of NH. We already have 19 of the 34 states needed. We want this to be the year for New Hampshire to show we believe our state motto: Live Free Or Die.
We hope NH will be the first state in New England to show that WE DECIDE, our local people can make the best decisions for our state.